Here at Backyard Monkey, we provide the following quality services:
Tree Removal
Tree Trimming and Pruning
Stump Grinding
Landscaping
Yard Work
Chipping
Hand Clearing
Trailblazing
Brush Mowing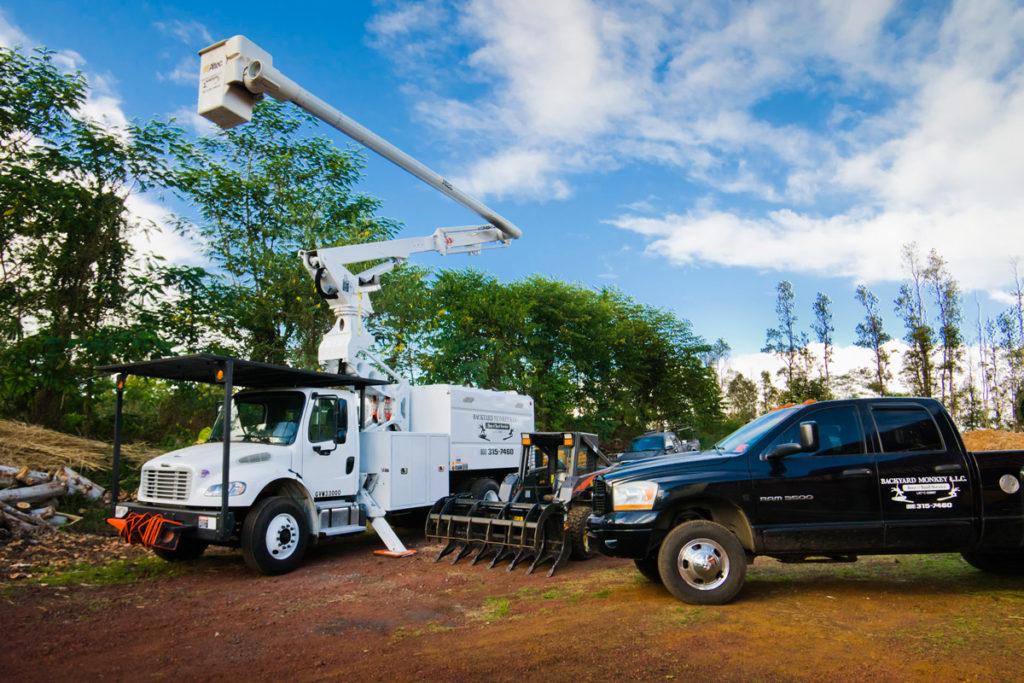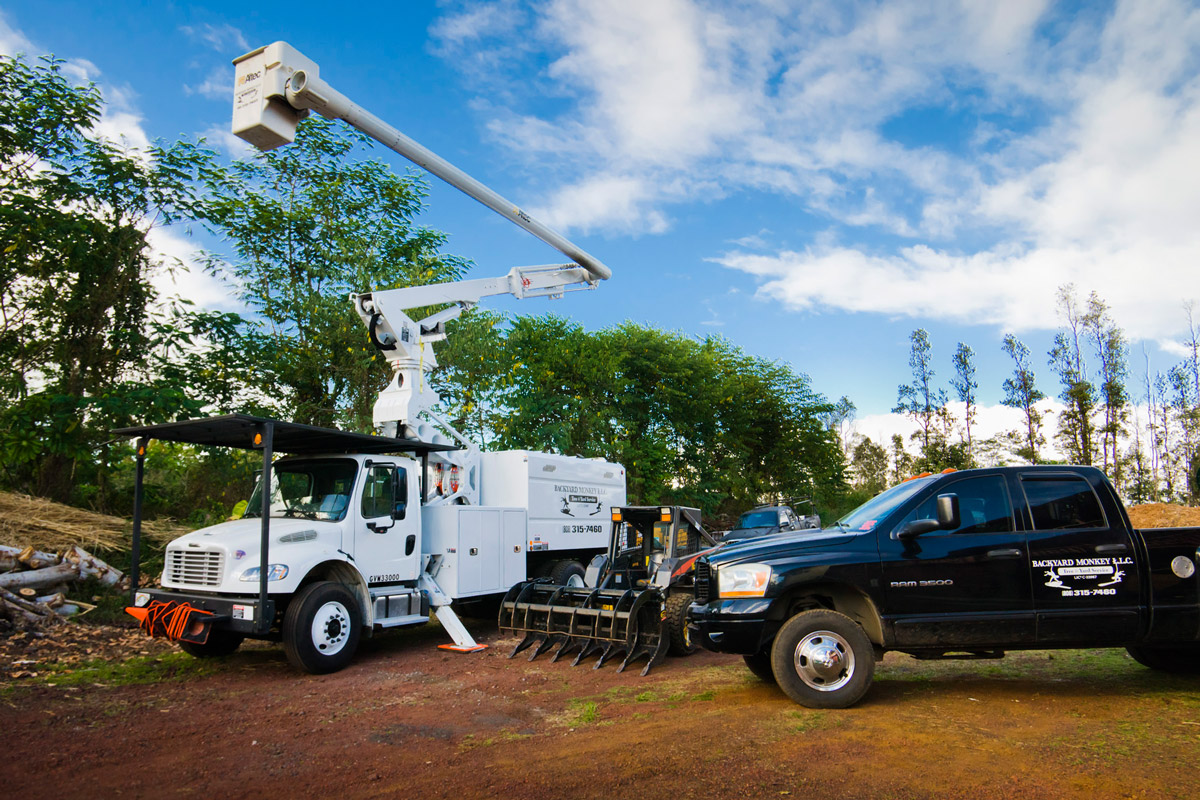 We remove all trees and are fully insured.
Big or small, Backyard Monkey safely removes trees and stumps from your yard. Our tree removals are followed by a thorough clean-up of the work area. We take care of removing all of the debris.
Our Tree Care Specialist will:
• Make an on-site visit to evaluate site/tree and determine an accurate price for your tree removal.
• Upon request, provide any alternate solutions other than full tree removal.
• Email or mail your proposal and follow-up to discuss details and answer any of your questions.
• Schedule work to be done at a time convenient for you.
• Coordinate with power or service companies
• Obtain necessary permits
• Notify neighbors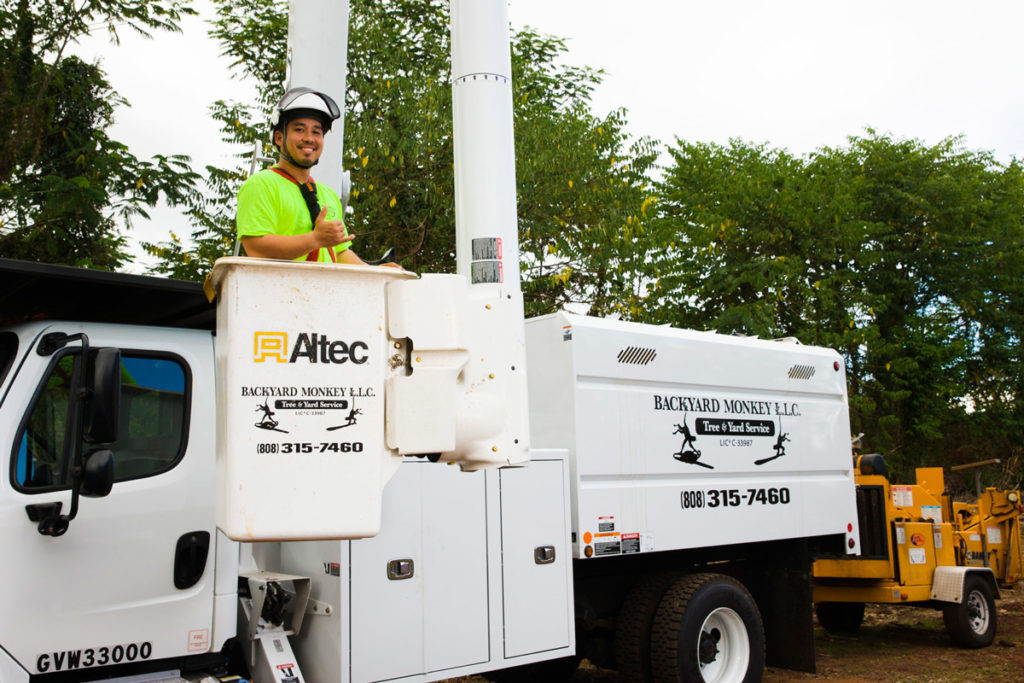 Our skilled Tree Care Specialist can accomplish even the most difficult tree removals. We work around your landscaping, home and buildings, and other trees. We use the appropriate equipment to get the job done quickly and safely.
Backyard Monkey has an excellent safety record, and carries full insurance. Should an accident occur, you as a homeowner will not be held liable for any resulting injuries or damages.
With a variety of equipment and years of experience, we are always able to create a removal plan that is right for you and your unique situation. We may use an aerial lift bucket, cranes, our specialized rigging system, or any state-of-the-art equipment to remove your tree quickly, safely, and with a minimum of disturbance to the surrounding area.
Our workers have undergone training to work around and near electrical hazards. While they are not electricians, they can differentiate between safe and unsafe work zones, and we will coordinate with your electric company when necessary.
Backyard Monkey will also remove the stump if you choose. As this requires different equipment, a specially trained technician will complete that at a time separate from the tree removal.
Hazardous Tree Removal
Backyard Monkey safely removes damaged and hazardous trees.
A hazardous tree is one that has a greater potential to break apart or fall down, causing injury or property damage. These trees have often been damaged in storms, or are older trees that have begun to rot.
Backyard Monkey will evaluate the tree's structure to develop the safest way to remove the tree. We work with the appropriate equipment to ensure the process is smooth and efficient. In yards where access is limited, we will use a crane to assist in the removal process.
For a free on-site consultation,
call us: (808) 315-7460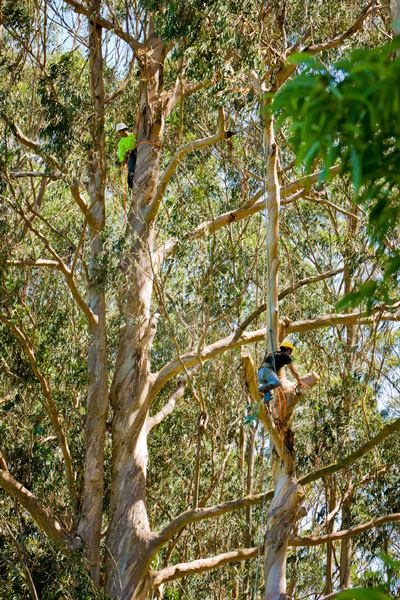 What Homeowners Need To Know about Tree Removal and Stump Grinding
•We coordinate with your electric company when necessary.
•Because we will always cut a tree's stump as close to the ground as possible, grinding the stump is optional.
•Do not assume that a new tree can be planted in the same spot after the stump is gone – there will be some underground roots left that are not removable.
•Upon request, we will haul away the grindings, back fill the hole with topsoil, and seed the area for you.
What To Consider In Estimating The Costs Associated With Pruning A Tree
•Size
•Location
•Accessibility
•How long since the last pruning
•Tree health
There are many factors that affect tree pruning costs. Estimates can range from a couple hundred dollars to over a thousand. It's important to know what work is involved in the evaluations. Backyard Monkey does not estimate costs until a tree care specialist personally looks at the tree. We understand what your objectives are. Our proposals are broken down so the whole job may be undertaken at once, or done a portion at a time. Whether it's one tree or a thousand, Backyard Monkey has a plan that will work for you.
We work with your needs, your schedule and your budget.
What Homeowners Need to Know About Pruning
Backyard Monkey professionals are educated in how trees grow and what makes branches strong or weak. We know how to correct problems.
All trees need pruning at some point in their lives. Trees do it naturally by "shedding" branches and twigs that become damaged from storms, disease or insects. That sometimes means tree branches will fall on your roof, car, garage or another unfortunate area, causing damage. It can also mean that your tree may become lopsided or unsightly.
Contact Backyard Monkey to keep your trees looking their best.